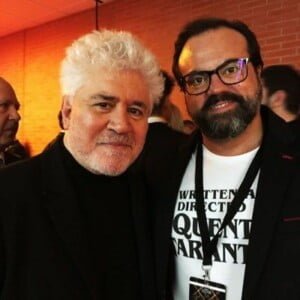 "We are of Cinema" is a weekly program of the Autonomous Radio of Castilla-La Mancha dedicated to the world of the seventh art, series and soundtracks. It lasts one hour and is broadcast every Saturday at 10 in the morning.
It was born in September 2016 with the idea of ​​offering the listener a space that, until then, did not exist on the RCM grid or on any of the regional radios. Talk about the premieres of the billboard, rate them and recommend the best of the week, without forgetting the projects that are being developed.
The news of the world of cinema and series is a fundamental part of "We are of Cinema", but this program also wants to be a speaker of the projects that are being developed in Castilla-La Mancha: shootings, young talents who triumph in the short, actors , and actresses, scriptwriters and, of course, speaker and ally of our festivals. From Abycine, Fescigu or CIBRA, to others who, like the Calzada de Calatrava International Film Festival, share with us a sincere love and passion for cinema.
Figures such as Carlos Saura, José Luis Cuerda, José Luis Garci, Agustín Díaz-Yanes, Santiago Segura, Rodrigo Sorogoyen, Isabel Coixet, Carla Simón, Javier Fesser, Antonio de la Torre, Javier Gutiérrez, Belén Cuesta, Macarena have participated in this program. García or Roberto Álamo.
For us it is a privilege to be a radio reference in Castilla-La Mancha and, as a result, in 2018, the Community Board awarded our program the First Journalistic Award on Radio for the special on the filming of Terry's "Don Quixote" Gilliam in La Mancha and for monitoring the commendable work carried out by the "Castilla-La Mancha Film Commission" in attracting filming to our community.
It was a pride to have this recognition, as it is that, this year, the Calzada de Calatrava International Film Festival, has seen fit to value our work on the airwaves.