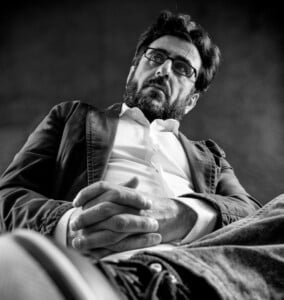 IX CALZADA DE CALATRAVA INTERNATIONAL FILM FESTIVAL
What an opportunity for reunion will be the ninth edition of the Calzada De Calatrava International Film Festival, that after a long and complicated pandemic time for everyone, an economic crisis in all sectors, and especially the audiovisual sector that needs the return to presence and attendance in theaters, the return to the collective experience of feeling through the big screen; that after a war in Europe, unjust like all wars, that after all this and a thousand other small and big battles lost and won, today we find ourselves at this point, at the gates of this new edition of our Festival.
The history of cinema as a spectacle began in Paris in 1895 thanks to the Lumière brothers. Since then, it has never ceased to surprise and evolve, from its beginnings with silent films to today's digital cinema. What it has never stopped doing is telling stories and transmitting emotions. Stories like the one of a small town in La Mancha that in 2014 embarked on an adventure with an uncertain future such as the creation of an international Short and Feature Film Festival. That town is Calzada de Calatrava.
Now more than ever, we believe that the Festival is very much alive to remain faithful to those new talents that everyone will undoubtedly talk about in the future, and in which Calzada de Calatrava is a strategic point for that fact. Many have been the protagonists who, together with the Festival, have been developing their professional careers, at the same time that films have emerged under the protection of our modest but firm programming. And undoubtedly, in this, the Festival will continue to be an accomplice, transmitting those reflections and feelings capable of generating new transforming talents of this seventh art that is cinema.
Cinema is part of our lives, and during the pandemic we proved it once again. We need moving images that tell us stories and we owe a lot to all the people who in one way or another are part of the world of cinema and make it possible. The Calzada de Calatrava Festival has not only been a great meeting place for professionals and amateurs and a great tool to promote the work of younger filmmakers; it has also given us the opportunity to acknowledge many people for their work and their constant dedication.
For nine years, Calzada de Calatrava has welcomed the world of cinema and in each edition of the Festival has shown its commitment to a cultural and artistic initiative that is also a popular celebration, a party in which many people take part united by a great shared passion.
After all this experience, it is now time to keep looking forward. Therefore, this year we will continue to further enhance our hallmarks, supporting young filmmakers with creative, innovative and even transgressive ideas on occasion; with screenings that encourage that meeting, that dialogue, that discussion … and of course the debate. And we will do it as always with more feature films, with more sessions of short films, with premieres, with special screenings and parallel activities for everyone, which I encourage you to discover in these pages.
The nostalgic and sentimental touch will be provided by the Exhibition "Cinema hand programs 1937-1957", an authentic trip to the memory through these treasures of yesterday, collected, cared for and pampered as authentic jewels of time by Juan José García Cuidad and that thanks to his donation allows us to enjoy them today watching a part of the cinema that our elders saw.
The social commitment brings our usual Solidarity Act, this time is dedicated to SOLMAN – Solidaridad Manchega con los Pueblos del Tercer Mundo -, NGO that for 28 years has been working to raise awareness of the harsh reality of the Third World, and whose main aspiration in their own words is "to achieve justice, equal opportunities and respect between people and peoples". And this year it is to raise funds for the project "SOLMAN, extending solidarity" with which to finance basic food kits especially aimed at vulnerable families and groups in northern Togo.
And the good taste in the mouth will be our traditional "Al Modo Bar" Film Tapas Route, in which our restaurants will surprise us with their culinary proposals based on Spanish films of all times.
The Festival goes out again to the streets with the illusion of making the most of these days of cinema, to bring to the public intense cinematographic moments, to attract actors and actresses, directors, creators, cultural agents and, of course, to fill again the streets of Calzada de Calatrava with cinema.
Whenever I have the opportunity, I repeat that preparing an event of these characteristics is something big, that requires a lot of effort, a lot of time and many people involved, restless people, who are not satisfied with what has been achieved so far, who do not stop before the difficulties but fight to overcome them, and who put all their talent, their effort, their work and imagination to consolidate Calzada de Calatrava as a place of reference at national and international level of the seventh art, people who in one way or another make possible the magnificent continuity of the Calzada de Calatrava Film Festival, without forgetting all the people who during a few intense days will take part in the celebration of its IX Edition, thus contributing to its development as an open, multicultural and inclusive city. To turn Calzada into… a town of cinema.
José Antonio Valencia Camacho
General Manager
Councilman of Culture – City Council Calzada Cva.