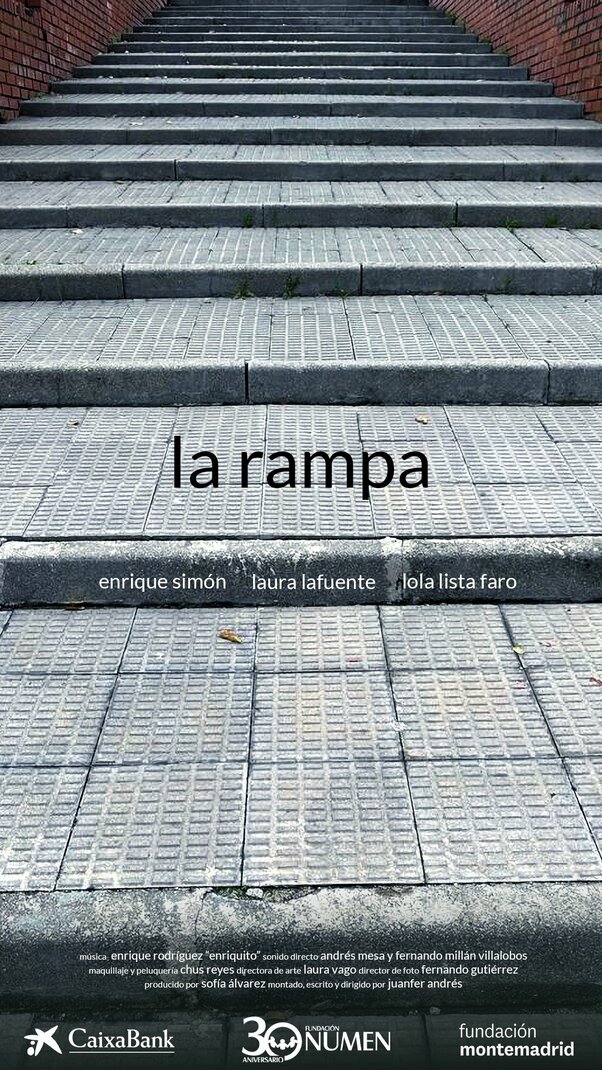 Justo has to carry her granddaughter lola up the stairs outside her house every day. He decides go to a meeting of her residents' association to ask for install a ramp.

Director:
Juan Fernando Andrés Parrilla
Producer/Production company:
Sofía Álvarez, Juanfer Andrés Juanfer Andrés - Juanfer Andrés
Script:
Laura Vago
Interpreters:
Enrique Simón, Laura Lafuente, Lola Isla Faro, Sayago Ayuso, Paco Marín, María Morales, Marta González De La Vega, Jesús Ángel Castrodeza, Juls Gars, Lara Palma
Sound:
Fernando Millán Villalobos
Music:
Enrique Rodríguez "Enriquito"
Make-up artist:
Chus Mayo
Photography:
Fernando Gutiérrez
Editing:
Juanfer Andrés
Duration:
14 minutes
Content Rating:
7+
Idiom:
Español
Gender:
Adolescente, Comedia, Derechos Humanos, Drama, Infantil
Thematic:
Adolescente, Arquitectura, Asuntos Sociales, Desigualdades, Discapacidad, Infancia
Country:
España
Date of production:
2023-01-01
Distributor:
Agencia Audiovisual Freak - Mónica Gallego
Website:
https://www.agenciafreak.com/peliculas/la-rampa/